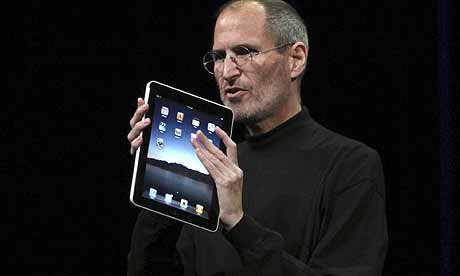 While the chorus of hand-picked pre-release iPad reviewers has pretty roundly declared it just as magical as Steve Jobs told us it would be, and how the interface sweetly beckons the user into it's experience before gently disappearing to reveal some new oddly-posthuman machine love affair, not a whole lot is being said about what this device means to content publishers. The naysayers deride, among oh so many niggling things, it's flat file system, lack of HDMI output, no USB, no Flash support, and virtual uselessness as an authoring platform but, clearly, that's not what it's really meant for. As many have noted, the iPad is a device designed primarily for consumption.
More specifically (and more importantly to the publishing & distribution biz), the iPad is a shiny, friendly, closed & gated, DRM'd device for finding, purchasing, and consuming new media, all managed by the secure & reliable iTunes Store. The user gets what is arguably a faster, more intuitive, and compelling experience that will probably have them throwing gobs of money at the next generation of digital media. Publishers get a delivery target that is a de facto store with all the innate moral understanding about payment and value and theft that comes with that context. And consumers get the ability to search, find, purchase, and consume media in one single, engaging mobile device.
In the iPad frontier, it's explicitly OK for publishers to charge users for content. They have a whole new platform in which to innovate experiences that upsell users from the last generation's content. You loved The Beatles remasters? Well now you can get The Beatles remasters with HD multimedia interactive album copy & studio videos for only $22.95 an album!
It's no wonder that Disney, ABC, the Wall Street Journal, Netflix, Conde Nast, Harper Collins, Simon & Schuster, Penguin, Marvel, and many, many others have rushed to the new platform to plant their flags and set up shop. Marvel basically set up it's own comic store on the device, as Netflix has done with video. The Wall Street Journal has the perfect premium gateway for their subscription model. News & magazine publishers barely breathing after the beating they've taken since the web forced them to give away all their content for free must be droooooling over the opportunity to create the next generation of news experiences in a gated platform. Likewise for the book publishers finally reaching the new frontier of interactive digital content more compelling than paper books now lining so many remainder shelves like dusty word bricks. And arguably, the planet may be at least partially relieved of some of the paper and ink waste bloating landfills (we'll overlook the as-of-yet unresolved energetic/carbon burden of dematerializing into electronic containers…).
While many of us have been beckoning the new era of open content, the major media publishers have been begging for the lockdown offered by the iPad. To them, the device promises both a new platform for innovating compelling content, extending their business opportunities into the future landscape at a time when they've been so stuck in the past, and it offers the security of a trusted gate for managing purchases and IP protection. It's more of a nightmare for a lot of people but for the majors it has to be a dream come true. I can only assume that Steve et al worked closely with these interests to make sure they help build an impressive content catalog and a massive hype machine to drive as many new buyers to the iPad as they can. Apple knows that it sells a lot more product when it has the major distributors on it's side and, at this point, the Old Media houses are pretty much powerless in Steve's patented Reality Distortion Field.
Questions remain, of course. They've already sold over a million units in pre-sale but will the price point hold enough momentum to herald the new age of digital content consumption? Fanboys and early adopters are not enough to sustain a publishing revolution. Apple will probably drop the entry level price in another year or so after it's stacked up a solid catalog of content. Will the content be good enough to merit the costs? The Wall Street Journal thinks people will pay $17 a month for their service. I wonder if more news sites will follow the lead of the Wall Street Journal and start locking down their web content..? And how long until all the content houses push back and want to extend distribution to the next gen of iPad competitors? Well, it hasn't been much of a problem for iTunes & the iPod so far. That ecosystem, with plenty of would-be competitors, has kept music publishers pretty happy in a time of otherwise dismal CD returns. Will Apple's DRM solution be enough to stem the blood loss from file sharing? Face it kids, piracy is a problem for the industry. And face it, industry: your recycled, top-40, tent pole, hedge fund, bloated, over-managed content production models are done. Get used to the long tail of compelling new media niche content that costs half as much as it used to.
Whatever you think about Apple, however much you hate them for being so good at manipulating the public narrative in their favor, however much you detest-and-secretly-admire their obsessive design principles, their ability to dismiss seemingly obvious functionality, their iron-fisted distribution mamagement, and their cavalier "we don't really worry about the business side" attitude towards their shareholders… Whatever. Apple has lined up pretty much the entire content industry, pointed them at a new playground, and guaranteed them a financial return on their efforts. Will it be enough to save their business in the face of the democratized world of free user content? The industry will abide and do it's best to make compelling new content that's only available on this very compelling new device.
[For a much more user-centered take, see Cory Doctorow's impassioned piece, Why I Won't Buy an iPad and Think You Shouldn't Either. Also see Joel Johnson's similarly impassioned counterpoint.]
[Andrew Keen summed it up nicely in this tweet: "my prediction: iPad will formalize chasm between Apple's high-end paid content model & Google's low-end free model. Adieu to mass media."]
[Quinn Norton discusses the Elephant in the room: the iPad is simply too expensive for most people.]
[Investor Howard Lindzon shows off the NASDAQ app w/ StockTwits support. Lovely UI!]
[Round-up of media brands currently on the iPad.]